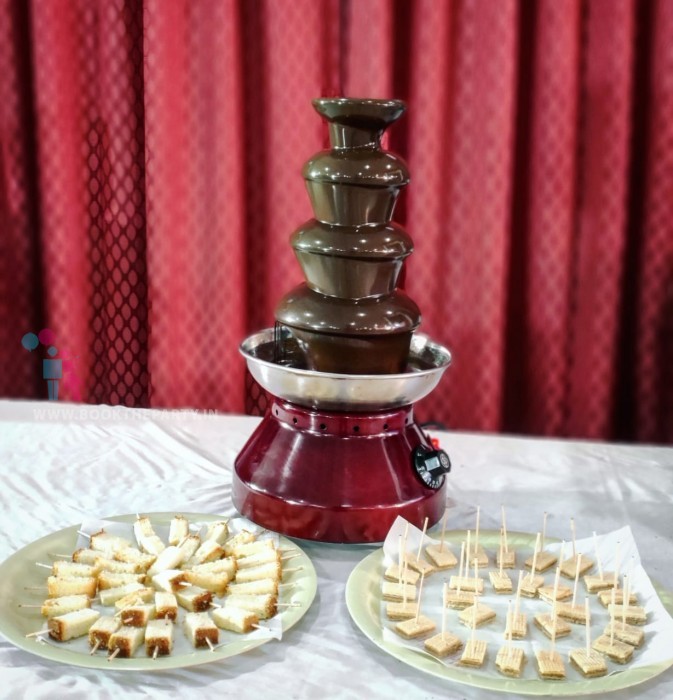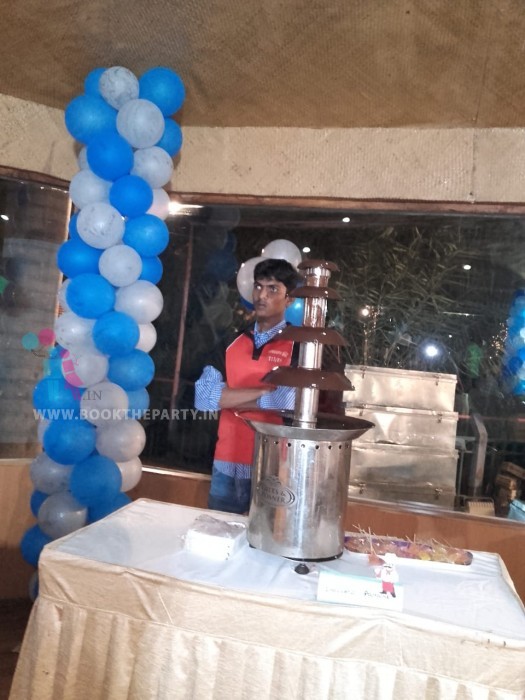 Chocolate Fountain 4 layers - 400 no's
Setup Time: 1 Hrs
Rent duration: 3 Hrs
Minimum Qty: 400
Description
No more hassles and tireless efforts of planning a Birthday party! Get Chocolate fountain for flamboyant chocolate experience.
MRP : ₹ 6750 ( ₹ 900 OFF)
₹ 5850 BTP Price
(price may vary based on party location )
Total Quantity : 400
Add Extra Qty( ₹ 16 per qty)
Inclusions
The party package includes unlimited packs of Chocolate fountain that can be used upto six long hours.
Up to 3 hours, 100 chocolate dipped items are served with the add-on benefits of Apple, Jelly, Sponge cake and Wafers.
Description
Chocolate fountain becomes the centre of attraction during the Birthday party, when those yummy candies and fruits are tasted after dipping into it.
The chocolate fountain is not only attractive, but also acts as a wonderful addition to the Birthday decoration that can grab attention of all the friends and family.
It's a Birthday after all!
A pleasing view of warm chocolate flowing down and everyone enjoying their cookies, dried or fresh fruits and your favorite breads after getting them fully drenched in hot chocolate.
It sounds, smells and feels satisfying having in a party which you would have only experienced in hotels, restaurants and luxury homes.
Why not in your own party then? Though there are numerous tips and tricks to work on chocolate Fountain, polishing is best done by the professionals.
There is a large circle of guests who arrive at the Birthday Party and you have minimal budget to do the extra decoration.
Don't worry; chocolate fountain-unlimited order in itself can make the entire ambience worthy and appealing too! You need not put any efforts by the DIY Techniques and just need to HIRE one at BTP.
You are all set now!
Points
If you want any of these more than 400 instants then the price will be extra Rs.16 per piece.
Terms
Sufficient space and tables are required for the setup of the chocolate fountain machine.
Power supply and backup are essential and need to be taken care by you.
A maximum of 20 meters of cable should be provided for power point.
Loading...Please wait..!!!