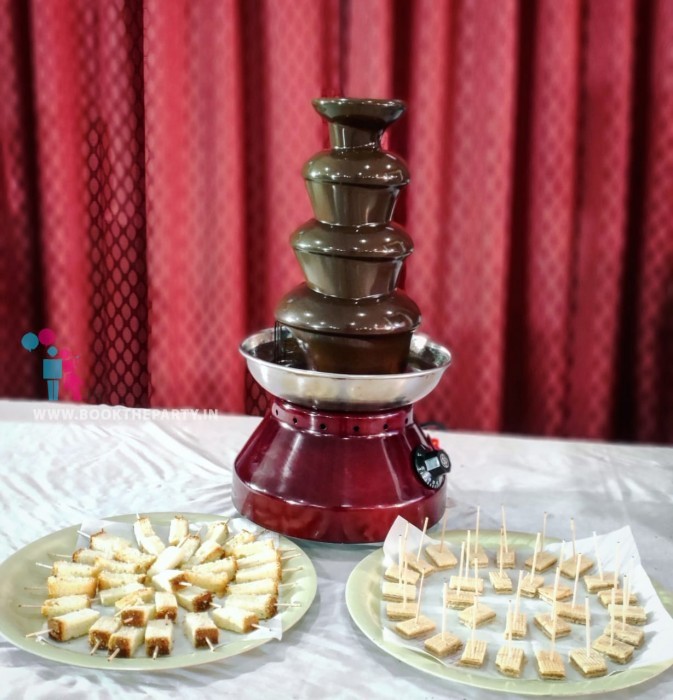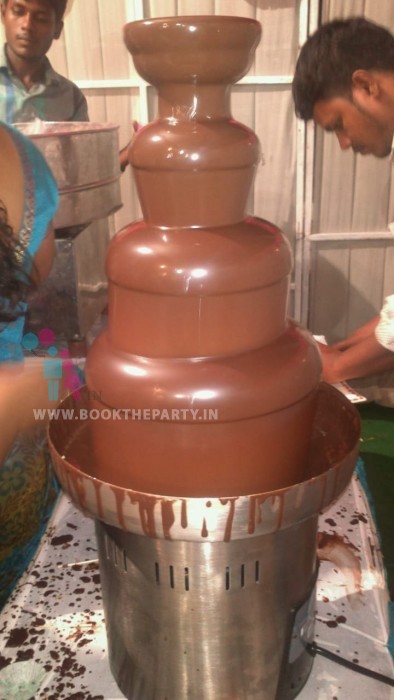 Chocolate Fountain Big 5 Layers - Unlimited 500 NO'S
Setup Time: 1 Hrs
Rent duration: 3 Hrs
Minimum Qty: 500
Description
Adorning your party with chocolate fondue can make your celebration more joyful!
It's fun for everyone and at the same time looks attractive too.
MRP : ₹ 7500 ( ₹ 1000 OFF)
₹ 6500 BTP Price
(price may vary based on party location )
Total Quantity : 500
Add Extra Qty( ₹ 16 per qty)
Inclusions
The party package will include unlimited packs of Chocolate fountain that can be used upto six long hours.
Upto 3 hours, 100 chocolate dipped items will be served with the add-on benefits of Apple, Jelly, Sponge cake and Wafers.
Description
Though a kid's birthday party is fun, it can be a great hassle when it comes to planning a cool party.
As a parent you always wanted to do something fascinating for your child that he will cherish forever.
Adding on a Chocolate Fountain would be a great idea.
Now, you can calm down those sweet tooth craving by getting chocolate fondue servings.
Kids would be extremely happy to enjoy their dipped-in favorites into the chocolate fondue.
A lot of charm can be simply added by just including a Chocolate fountain big 5 layers.
If you also think that buying it would be a burden on your pocket then worry less and leave it on BTP.
Now you can rent the most attractive chocolate fountain at BTP and that too at the best price.
Don't worry about the mess and the hassle that the installation process involves; BTP will handle it all with ease.
It's your kid's Birthday and he deserves a chocolate treat with a bit of fondue.
A chocolate can bring smile to your kid's face.
What more would you wish on kids special day?
Points
If you want any of these more than 500 instants then the price will be extra Rs.16 per piece.
Terms
Sufficient space and tables are required for the setup of the chocolate fountain machine.
Power supply and backup are essential and need to be taken care by you.
A maximum of 20 meters of cable should be provided for power point.
Loading...Please wait..!!!