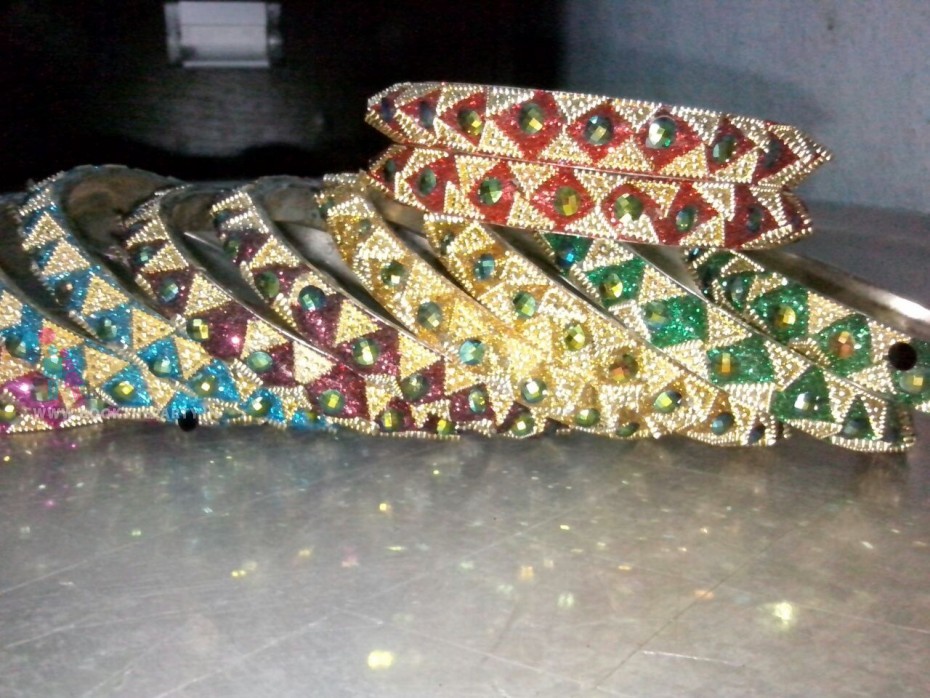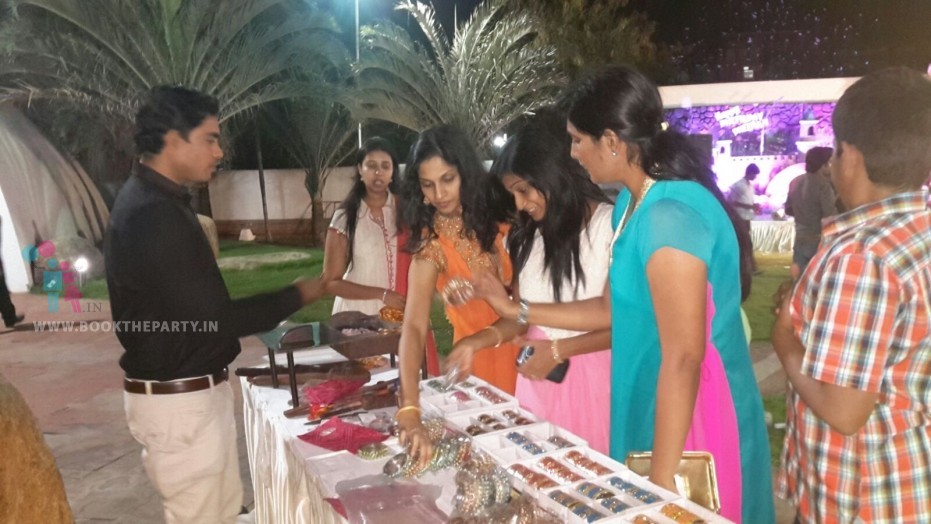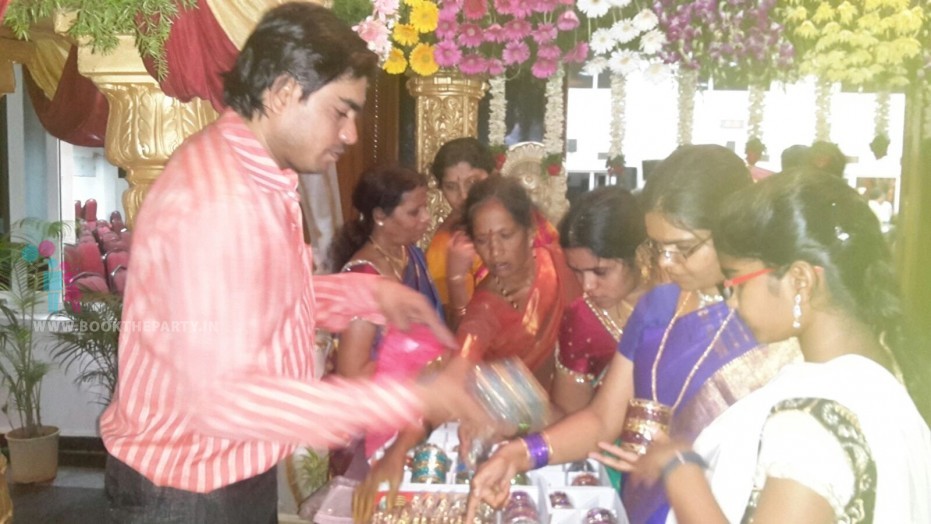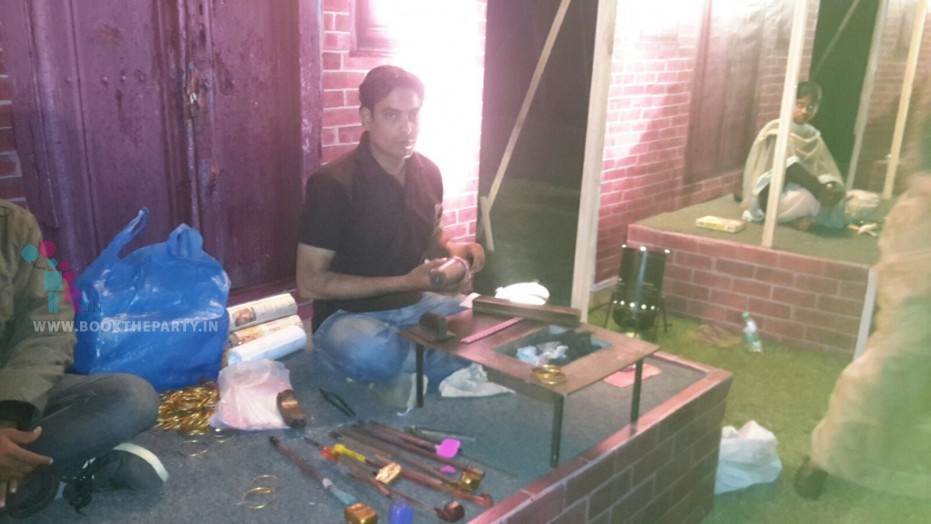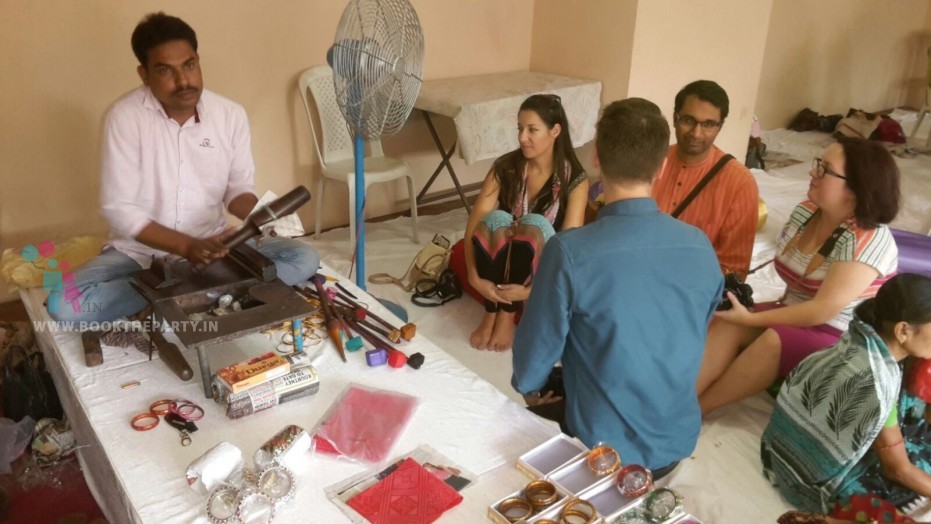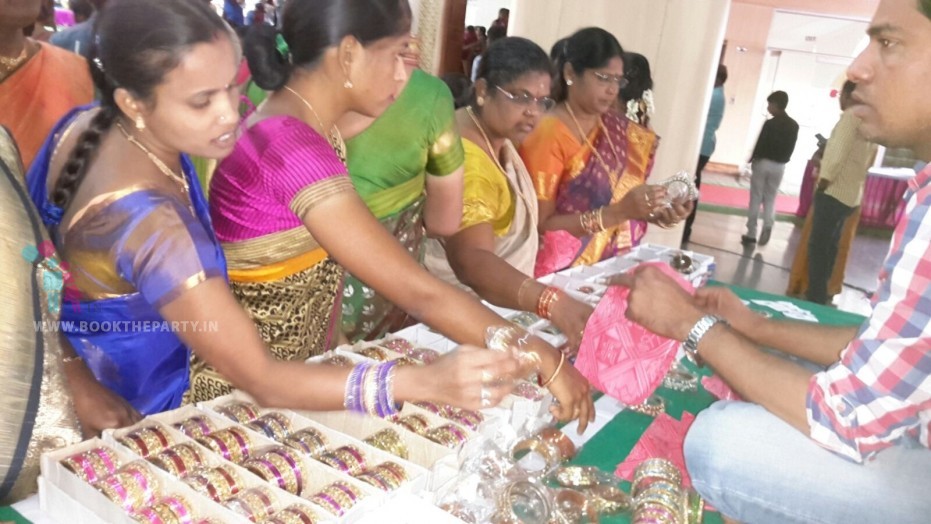 Bangle Maker
Setup Time: 1 Hrs
Rent duration: 04:00 Hrs
Description
Live bangle making is an interesting activity for females at any event.
A bangle maker will make bangles with glass or lac live at your event offering a unique source of entertainment.
MRP : ₹ 9000 ₹ (1200 OFF)
₹ 7800 BTP Price
(price may vary based on party location )
Inclusions
Live bangle making is specially arranged for girls & women in the party.
Female guests will enjoy this activity.
Designed bangles will be given to the guests as a gift.
One bangle maker will be available to make bangles live at the event.
Already Prepared Bangles will be showcased at the event.
For Bangle making artist uses threads, glitters, kundans, stones, etc.
All the material (equipment, materials) required for bangle making will be bought by bangle maker.
Description
Bangles and girls are inseparable. They love to wear bangles with all their outfits, whether it is traditional or modern.
You can add a fun element to your party by booking a bangle maker to make bangles live at your event.
The artist will use glass or lac to make the bangles and your guests will be fascinated to see this process, especially the girls.
The artists you book through BTP are highly experienced in their craft having knowledge of various designs and material thus ensuring a fun-filled experience for your guests.
The artist can also customize the design and colour of the bangles as per the guest's choice.
These designed bangles can be taken home as a return gift from the party host.
You can hire bangle makers for baby showers, saree ceremony, puberty functions, girl's birthday party, and weddings.
BTP helps you hire the best bangle maker in your city at an affordable price.
Points
The duration of the activity is 4 hours.
Bangle maker will provide 100 pairs complementary.
If the number of bangles exceeds to that included in your selected package, it will be charged extra for each pair.
A table and chair should be arranged from your side for the artist to place his props and carry out the activity.
Terms
All the activities will be booked for the duration mentioned in the Inclusions.
The payment needs to be done as per our payment policy
Ensure that the power supply is available to complete decorations on time & hassle-free.
Give the decorators sufficient time to set-up your venue.
Ensure the required arrangements are in place to execute it on time. Few decorations might need a table, ladder, chairs, plug points based on your selection and venue type. Please cross-check before you place the order.
For anything additional which is not mentioned here, you will need to pay extra.
If there is any damage to any of the merchandise used for this set-up, you will be billed accordingly.
You need to ensure that all necessary permissions/copyrights and authorizations are in place beforehand.
Booking does not include any furniture/fixtures. Examples, but not limited to chairs, tables, carpets, power points, ladder.
Booking is not inclusive of housekeeping services.
Booking also does not include venue royalty charges, maintenance charges, housekeeping charges, power charges, and any other charges that are not specified in this package.
We use all the safety precautions, but we are not liable for any casualties arising at any stage.
Loading...Please wait..!!!