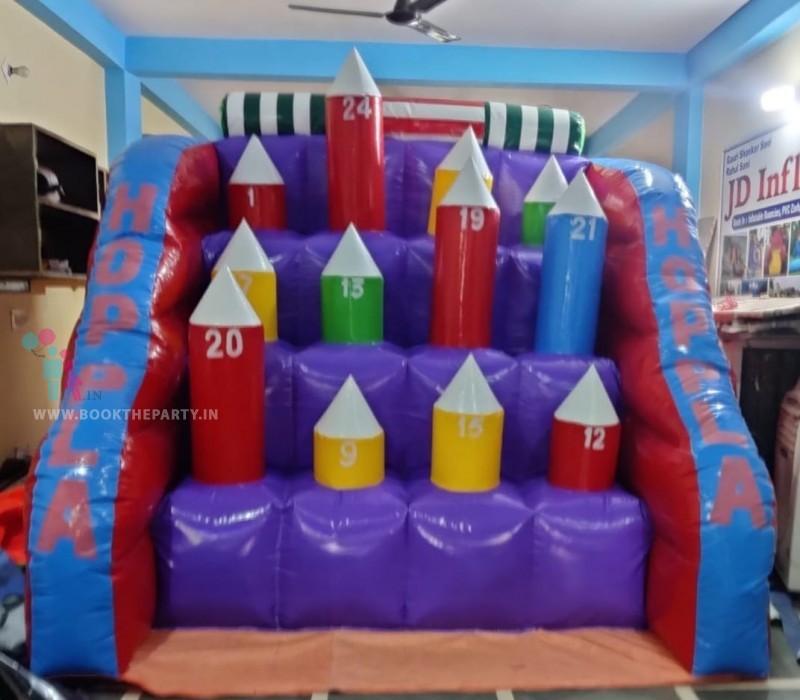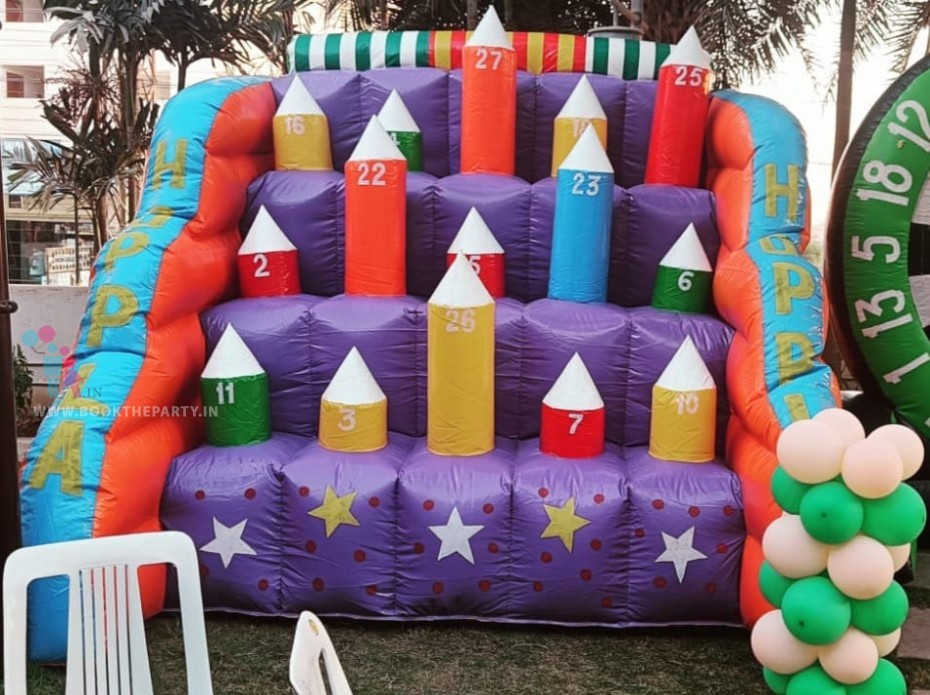 INFLATABLE HOOPLA 10*10
Setup Time: 30 Hrs
Rent duration: 04:00 Hrs
Description
InFlatable Hoopla game has been a well-known attraction at fairs and school fetes for many years and now you can have it at your party as well by hiring it from BTP at an affordable price.
InFlatable Hoopla is a game where rings are aimed at a gift you need from behind the line.
Children are aw-struck with the idea of getting gifts by winning a game, so they are tempted to try their luck.
Each person is given three chances to toss the ring and win the gift they want.
This game is also a great entertainer for adults. One person handles and arranges the hoopla stall at your party and manages it.
Rings to toss is provided by the person, but the gifts need to be arranged by you which can be bought from our ADD-ONS section.
MRP : ₹ 3875 ( ₹ 625 OFF)
₹ 3250 BTP Price
(price may vary based on party location )
Inclusions
One Person handles and arranges the InFlatable Hoopla stall.
Rings to toss are provided.
Need 30 Gifts that need to be arranged from your side. Gifts will be basic ones like Kids toys, cups, dolls etc. You can buy them from our below displaying ADD-ONS.
Each person can toss rings for a maximum of 3 times from 6 feet distance.
Description
A Inflatable hoopla game at your party is a fun game to keep the kids and adult entertained for a few hours as well as the attractive gifts tempt all to try their luck at aiming the hoopla rings.
Points
Gifts to be presented to the winner not included, you need to arrange for them.
Terms
All the activities will be booked for the duration mentioned in the Inclusions.
The payment needs to be done as per our payment policy.
Ensure that the power supply is available to complete decorations on time & hassle-free.
Give the vendor/Artist sufficient time to set-up your venue.
Ensure the required arrangements are in place to execute it on time.
Few decorations might need a table, ladder, chairs, plug points based on your selection and venue type. Please cross-check before you place the order.
For anything additional which is not mentioned here, you will need to pay extra.
If there is any damage to any of the merchandise used for this set-up, you will be billed accordingly.
You need to ensure that all necessary permissions/copyrights and authorizations are in place beforehand.
Booking does not include any furniture/fixtures. Examples like chairs, tables, carpets, power points, ladder etc.
Booking is not inclusive of housekeeping services.
Booking also does not include venue royalty charges, maintenance charges, housekeeping charges, power charges, and any other charges that are not specified in this package.
We use all the safety precautions, but we are not liable for any casualties arising at any stage.
Loading...Please wait..!!!