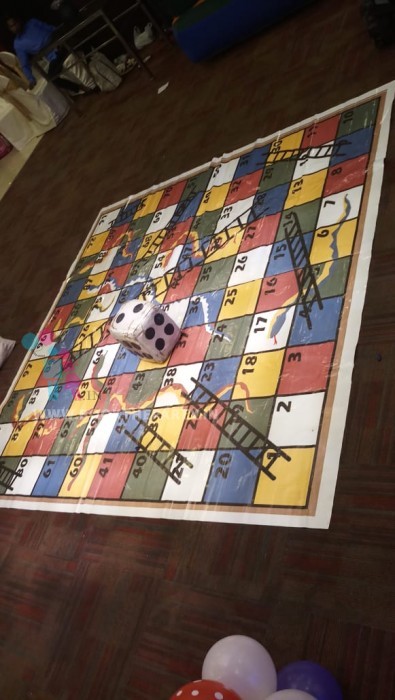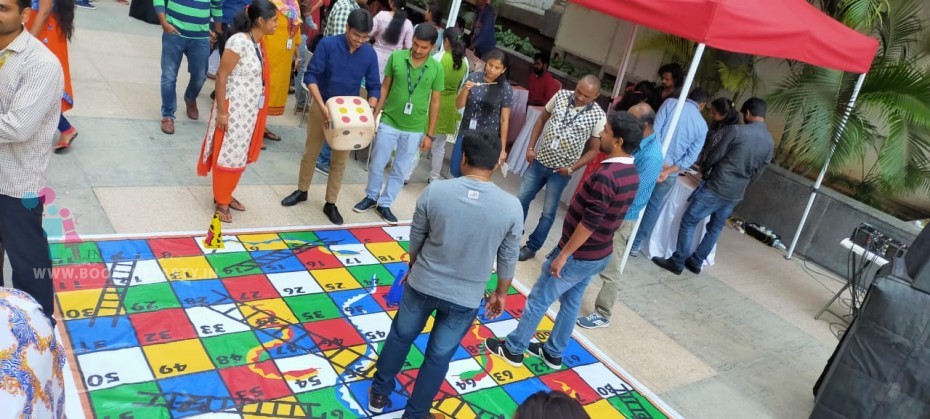 Snake N Ladder
Setup Time: 1 hour Hrs
Rent duration: 04:00 Hrs
Description
Snake N Ladder is an old, but interesting game loved by people of all age groups. You can add this fun game for events or birthday by renting from BTP.
MRP : ₹ 3875 ₹ (625 OFF)
₹ 3250 BTP Price
(price may vary based on party location )
Inclusions
1 coordinator available to set up, take care of the game stall, and instruct the players.
Game mat and big size dice provided.
Description
Snake N Ladder is one of the most sought-after games for birthdays, corporate, and college events.
BTP offers this game on rent in Hyderabad and neighbouring areas at an affordable price range.
Consisting of a giant playing board and dice, it is sure to occupy and entertain all your guests for a few hours.
What makes it more exciting is that the game is played not with the discs, but the guest is the disc and needs to reach the number hundred to win the game.
This game is a popular one to play with your friends and family.
The varying lengths of snakes and ladders will move the player backward or forward thus adding in the excitement who will win.
The Snake N Ladder game is available for rent from BTP at very nominal rates.
Points
more then 4 hours charges extra 1200/ per hour.
Terms
All the activities will be booked for the duration mentioned in the Inclusions.
The payment needs to be done as per our payment policy
Ensure that the power supply is available to complete decorations on time & hassle-free.
Give the decorators sufficient time to set-up your venue.
Ensure the required arrangements are in place to execute it on time.
Few decorations might need a table, ladder, chairs, plug points based on your selection and venue type. Please cross-check before you place the order.
For anything additional which is not mentioned here, you will need to pay extra.
If there is any damage to any of the merchandise used for this set-up, you will be billed accordingly.
You need to ensure that all necessary permissions/copyrights and authorizations are in place beforehand.
Booking does not include any furniture/fixtures. Examples like chairs, tables, carpets, power points, ladder etc.
Booking is not inclusive of housekeeping services.
Booking also does not include venue royalty charges, maintenance charges, housekeeping charges, power charges, and any other charges that are not specified in this package.
We use all the safety precautions, but we are not liable for any casualties arising at any stage.
Loading...Please wait..!!!