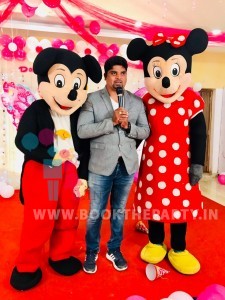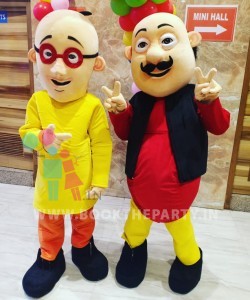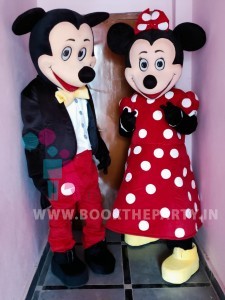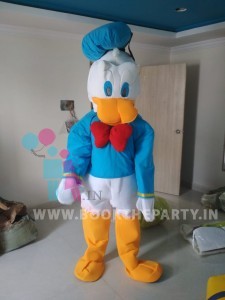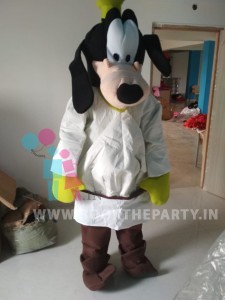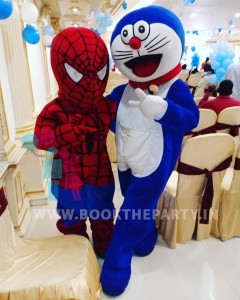 Cartoon Characters
Setup Time: 1 Hrs
Rent duration: 3:00 Hrs
Description
Surprise your kids sweetly by presenting with live cartoon characters at his/her birthday party. The funny activities of the characters will be adding amusing elements to the celebration.
MRP : ₹ 2250 ( ₹ 300 OFF)
₹ 1950 BTP Price
(price may vary based on party location )
Inclusions
• Live cartoon character.
• Cartoon character that can greet and play with the children at your party.
• Cartoon character will also be present for cake cutting and pose to photos , take a selfie with cartoons etc.
Description
Every kid loves cartoons – there is no doubt about it. Even adults are fond of them. Talk to artists registered at BTP to make a birthday party more enjoyable by bringing in live cartoon characters to the spot. The kids will remain in awe and begin to jump in excitement. The character will cordially greet your kid and his/her friends at the party. If you wish, then you can hire the services of multiple cartoon characters. They will play with the children and make them giggle doing funny activities. Your kid can also cut birthday cake with a special cartoon character along with other friends. The children will want to take selfies with the cartoon characters in various poses. The atmosphere will instantly become more rejoicing in presence of these vibrant characters.
Points
Theme based live cartoon characters to greet and play with the children at the party.
Characters will also be present for cake cutting and can present the gift to the birthday child on request.
Cartoon characters will be available for a maximum of 3 hours.
You can choose cartoon characters like Chota Bheem, Chutki, Clown, Ben 10, Mickey Mouse, Minnie Mouse, Winnie the Pooh, Donald Duck, Tiger, Doremon, Dolu Bolu, Spiderman etc.
Terms
All the activities will be booked for the duration mentioned in the Inclusions.
The payment needs to be done as per our payment policy
Ensure that the power supply is available to complete decorations on time & hassle-free.
Give the vendor/Artist sufficient time to set-up your venue.
Ensure the required arrangements are in place to execute it on time. Few decorations might need a table, ladder, chairs, plug points based on your selection and venue type. Please cross-check before you place the order.
For anything additional which is not mentioned here, you will need to pay extra.
If there is any damage to any of the merchandise used for this set-up, you will be billed accordingly.
You need to ensure that all necessary permissions/copyrights and authorizations are in place beforehand.
Booking does not include any furniture/fixtures. Examples, but not limited to chairs, tables, carpets, power points, ladder.
Booking is not inclusive of housekeeping services.
Booking also does not include venue royalty charges, maintenance charges, housekeeping charges, power charges, and any other charges that are not specified in this package.
We use all the safety precautions, but we are not liable for any casualties arising at any stage.
Loading...Please wait..!!!