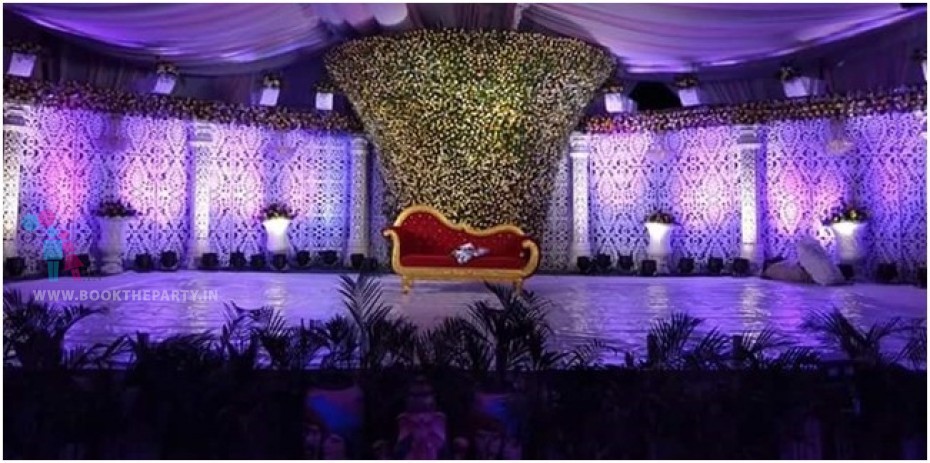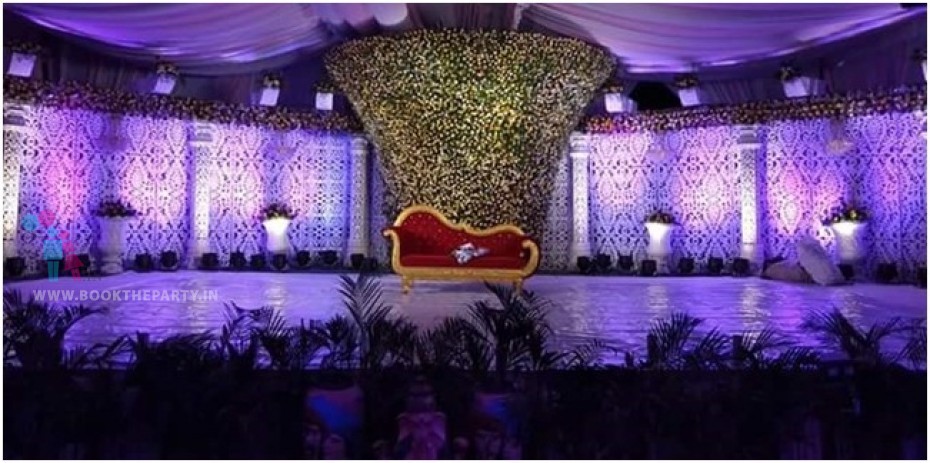 Big Dome Flower Pasting with Fiber Panels
Setup Time: 6 Hrs
Rent duration: 6 Hrs
BACKDROP HEIGHT (IN FEET): 12
BACKDROP LENGTH (IN FEET): 60
Description
The setup includes a large dome with floral pasting and fiber panels on the sides of the backdrop, arranged in a unique manner. The entrance is decorated based on a specific theme.
MRP : ₹ 387500 ( ₹ 112500 OFF)
₹ 275000 BTP Price
(price may vary based on party location )
Inclusions
Setup Name : Big Dome Flower Pasting with Fiber Panels
Backdrop Size in Height x Width : 12 x 60
Flower Type (Natural, Artificial, Mixed) : Artificial
Flower Names : Carnations
Stage Decoration Elements : NA
Backdrop Type (Ex: Cloth Drapes , Fibre Panels Etc) : Fiber Panels
On the Floor Elements : NA
Is Floor Carpet Provided : NA
Floor Carpet Type (Flex, Cloth, Stage Mat) : NA
No Of LED Power Cans : 100
Any Other Lights : NA
Is Stage Sofa Seating Provided : NA
For Surround Decoration : NA
Hall Entrance Decoration : Theme based arch
Main Entrance Decoration : NA
Pathway Decoration : NA
Welcome Board : Flex
Description
The backdrop has fiber panels on the sides and a large dome with floral pasting in the centre.
The entrance to the hall is decorated based on a specific theme.
Points
For this theme setup minimum of 12 feet height is required.
If it's a kids birthday decoration, Cake table needs to be arranged by the customer.
Please give the decorators sufficient set-up time.
All the necessary permissions/copyrights and authorizations should be in place to arrange the decorations.
The set-up doesn't include stage, table, and chair arrangements.
In Kids Decoration, the style can suit any occasion but can be customized as per your needs with welcome and name board for extra charges.
This package does not include a power generator.
A continuous power supply is essential for the decorations to complete on time.
If it is a Wedding related decoration, the set-up doesn't include garlands, any flower jewellery, bride and groom entry arrangements, etc, but can be done for extra charges.
Terms
All the decor styles will be booked for the mentioned rent duration only.
The payment needs to be done as per our payment policy.
Ensure that the power supply is available to complete decorations on time & hassle-free.
Give the decorators sufficient time to set-up your venue.
Ensure the required arrangements are in place to execute it on time.
Few decorations might need tables, ladder, chairs, plug points based on your selection and venue type. Please cross-check before you place the order.
All the decoration items except balloons/ natural flowers are on a hire basis only. Extra charges are applicable if you want to own it.
For anything additional that is not mentioned here will be charged extra. Please contact us for more details.
If there is any damage to any of the merchandise used for the set-up during the party, you will be billed accordingly.
Booking does not include any furniture/fixtures. Examples like chairs, tables, carpets, power points, and ladder etc.
Booking does not even include housekeeping services.
Booking also does not include venue royalty charges, maintenance charges, housekeeping charges, power charges, and any other charges that are not specified in this package.
Ensure that all necessary permissions/copyrights and authorizations are in place.
We use all reasonable safety precautions, but we cannot be held liable for any casualties arising at your venue or party place or any stage.
Loading...Please wait..!!!