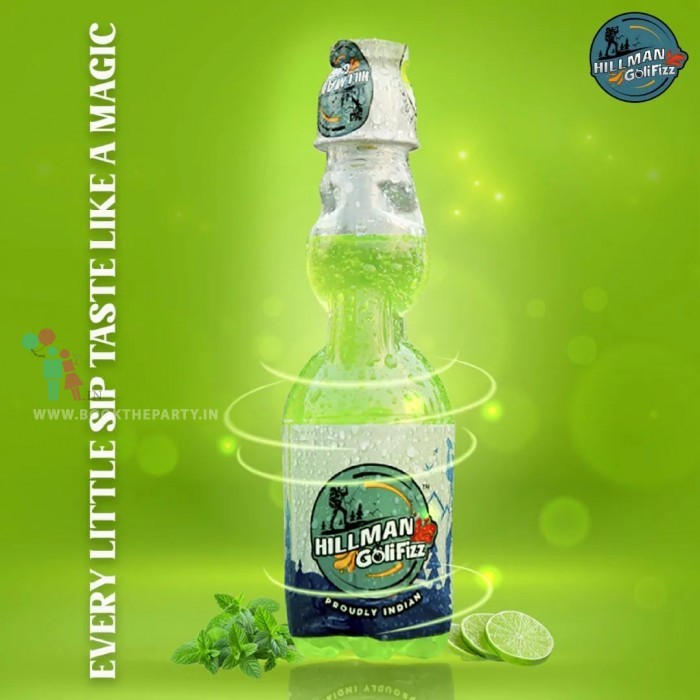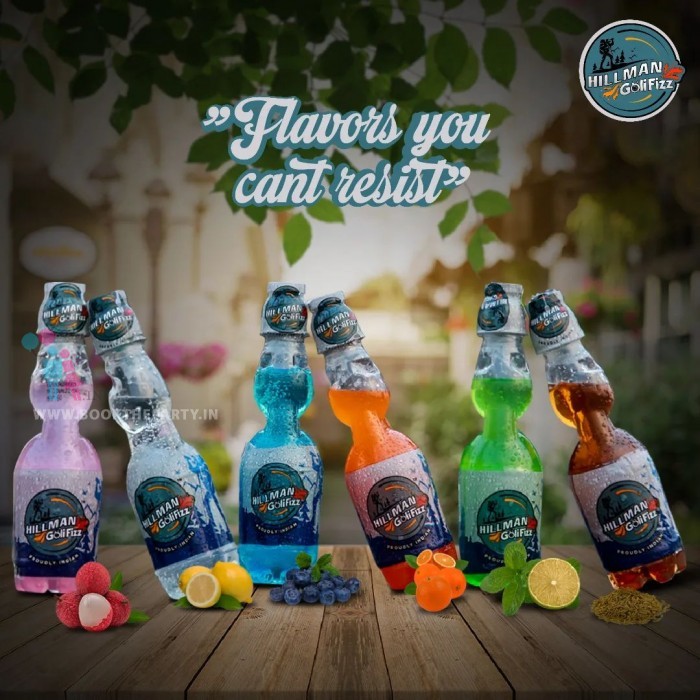 Goli soda Mojito (Green forest) PEP Goli Soda
Setup Time: 1hr Hrs
Rent duration: 3hrs Hrs
Minimum Qty: 50
Description
Hillman Golifizz is offered in use and throw PEP bottles for hygine and easy maintenance.
Hillman GoliFizz came into existance with the motto to not only refresh your Childhood Memories but also to be the best escape from the gazing rays of sun.
We have Launched 6 Exclusive refreshing flavoursof your Choice and many more on the way.
MRP : ₹ 3900 ₹ (520 OFF)
₹ 3380 BTP Price
(price may vary based on party location )
Total Quantity : 50
Add Extra Piece( ₹ 51 per piece)
Inclusions
Get jazzy Goli sodas served in Green Motijo; We make freshness of Mint and the Zesty sour flavour of Lime in Every sip you take.
One Operator will be provided to operate the stall.
Description
Goli soda is age old drink enjoyed by those who couldn't afford a bottle of Pepsi.
Every road-side corner has atleast one Goli Soda stand.
There are many out there who fancy the bottles of goli soda and play with the marbel inside.
Each one of us have overflowing memories associated with it.
Goli soda stands on the top when you are listing the beverages for your menu.
Make your party popular with the old looking codd-necked bottles that will be served in different flavours.
Still thinking where to get them? With BTP ofcourse, the best party planners in town.
You are never sure about the bottles that you get on the roadside if they are clean and hygienic.
BTP came up with an idea to include Goli Soda as a stall in the menu just to give you all the taste maintaining hygiene that you are afraid to take from nukkar walas.
So don't wait anymore and get your stall booked at BTP.
Points
Stall Decoration and Lighting are not included in this package.
Terms
Sufficient space and tables are needed for the Goli Soda machine setup.
Power supply and backup are essential and need to be taken care of by you.
A maximum of 20 meters of cable should be provided for power point.
Loading...Please wait..!!!